Real Ingredients

Each of our ingredients are thoughtfully selected to get the best possible product. We only use vine-ripened, non-gmo tomatoes and 100% first press, extra virgin olive oil. Our spices are sourced from the mediterranean, but when the New England climate permits we grow organic basil in-house.

Cooked to Perfection

Our cooking process takes about 6 hours. From simmering the onions to constantly stirring the sauce by hand, we do everything the same way Papa has done it for 30 years. This close observation helps us monitor consistency, while preserving our personal connection to each new batch.

Guaranteed Freshness

People often ask how long our sauces stay fresh even though they're preservative free. We use a special bottling process, which allows our customers to shelve products for up to 18 months...but chances are you'll eat it much sooner! You can even see when each jar was made by checking the production date included in the batch number.
Passion for Sauce
Our names are Dimitrios Lazaridis (left) and Dylan McCall (right) and we're just two guys that love cooking up simple and delicious pasta sauces. As childhood friends we both enjoyed my dad's sauce recipes for most of our lives. In fact, we thought his recipes were so good we decided to share them with everyone!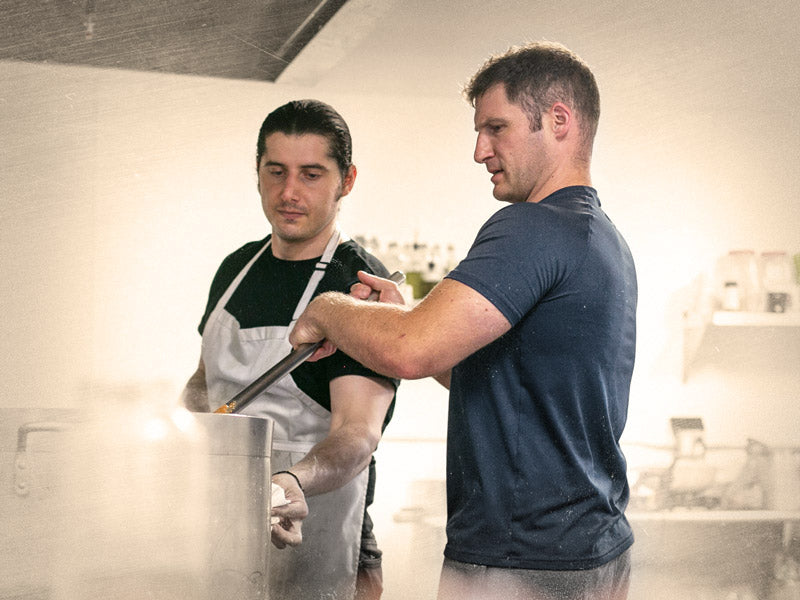 Classic Pasta Sauce
We have personally tasted and hand-selected every ingredient that goes into our special recipe.
Vine Ripened Tomatoes

Sourced from industry-leading farmers in California's San Joaquin valley, our tomatoes are non - GMO, rich in flavor and color and packed fresh in season.

Fresh Onions

Each onion is processed by hand. We sauté the onions slowly in extra virgin olive oil to release the natural flavors.

Homegrown Basil

When the New England weather permits, we grow our own basil organically and free from pesticides.

Extra Virgin Olive Oil

Made with handpicked estate olives from Spain and Italy, our non GMO oil is first cold pressed to ensure the highest quality and purity.